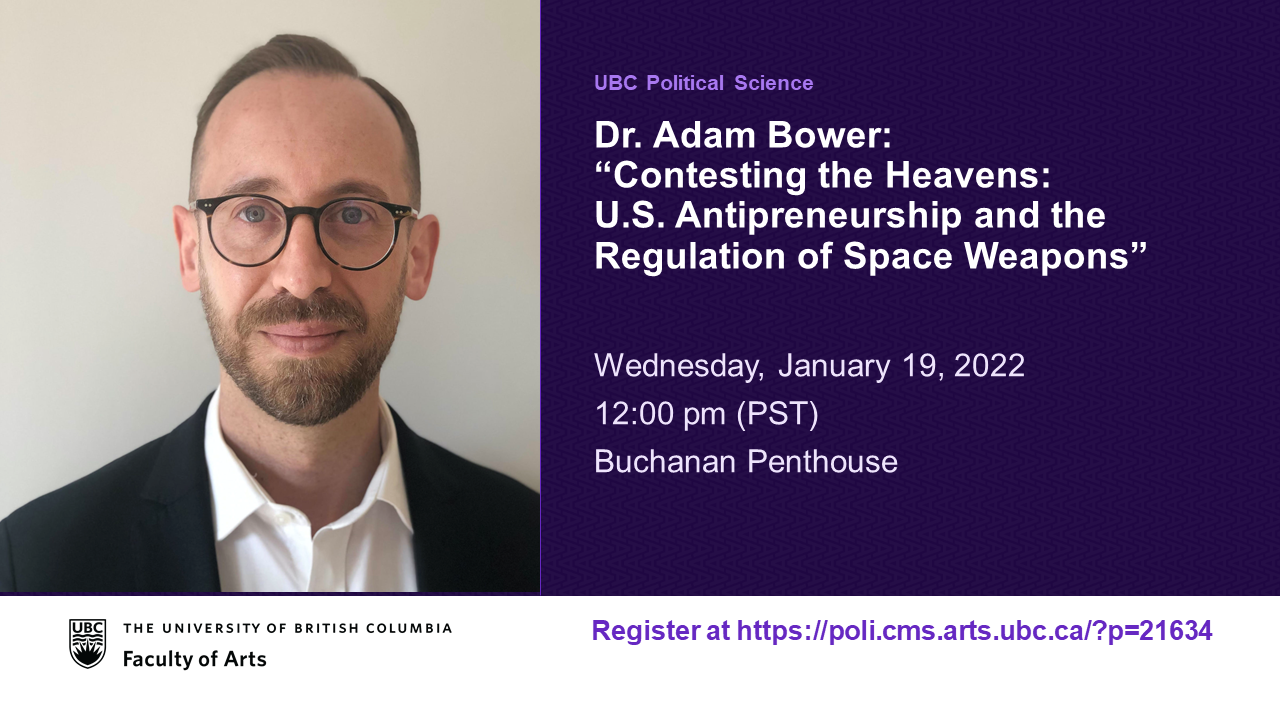 The International Relations Colloquium hosts Dr. Adam Bower for his talk titled, "Contesting the Heavens: U.S. Antipreneurship and the Regulation of Space Weapons."
Abstract: The 1967 Outer Space Treaty reserves the use of outer space for "peaceful purposes," and is widely hailed as ushering in an era of cooperation in human space activities. Yet recent decades have witnessed growing competition in orbital space, as a rapidly expanding range of spacefaring states and commercial operators vie to exploit satellite applications and, soon, valuable natural resources. These realities have led to intensifying calls for new multilateral legal restraints, including proposals (sponsored by China and Russia) to ban to the deployment of weapons in and through outer space. These initiatives have made little progress thus far, however, in large measure due to the challenge of overcoming great power resistance. Specifically, this article argues that the United States' approach to space security governance presents an archetypal example of "antipreneurship" as a strategy of norm contestation to resist innovation and protect the institutional status quo. We significantly expand on Bloomfield's initial (2016) conception of antipreneurship by elaborating its theoretical foundations, processes, and conditions. We theorize three dominant antipreneurial strategies—rhetorical, procedural, and behavioral—that involve diverse forms of agency. We then apply this modified antipreneurship theory to the case of U.S. space policy over the past two decades, tracing resistance to proposed restraints on space weapons. Despite transformations in geopolitical context, technology, and domestic political ideology, we show that U.S. opposition has remained largely consistent, but also identify forms of adaptation that speak to the strategic nature of antipreneurship.
Dr. Adam Bower is a Senior Lecturer (Associate Professor) in International Relations at the University of St Andrews, where he serves as Director of the Centre for Global Law and Governance and sits on the Steering Committee of the Institute for Legal and Constitutional Research. He is also a member of the St Andrews Centre for Exoplanet Science and a Fellow of the Outer Space Institute, a global network of space experts. Adam's research examines how actors strategically engage with international institutions and how norms and legal rules in turn shape and constrain future policy choices in often unanticipated ways. He studies these dynamics principally in the fields of arms control and disarmament ("conventional" and space weapons), international humanitarian and criminal law (International Criminal Court), and the governance of outer space activities. Adam is currently a Visiting Scholar at the College of Europe Natolin (Warsaw, Poland) and was previously a SSHRC Canada Postdoctoral Fellow in the Department of Politics and International Relations and Non-Stipendiary Research Fellow at Nuffield College, University of Oxford (2013-15), and a Max Weber Postdoctoral Fellow at the European University Institute in Florence, Italy (2012-13). He holds a PhD in Political Science from the University of British Columbia (2012).