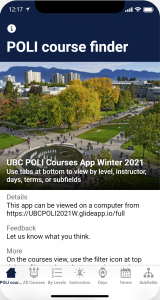 Our course offerings can best be explored on our Courses App, using a phone or a computer. The app lets you search and filter courses. It contains course descriptions and syllabi as they become available. You can 'favourite' courses in the app so you can see the ones you're most interested in when you come back to the app each time. Most courses in 2021W (Sept. & Jan.) will be held in person as normal.
For 2021, in accordance with the university's plans, the Department is planning on resumption of face-to-face classes for Winter Term 1 and 2, with some limited online and hybrid offerings. Students are expected to attend face to face classes in person; students with documented medical accommodations or visa problems will be given priority for registration in online/hybrid courses, all other students may register for such courses as space allows, but please do not contact the instructor or Political Science Advisor asking to be forced into a class that is full, you may only register if a seat opens up online.
Below is the normal search page that brings up the formal UBC Calendar information. Descriptions and syllabi usually appear in our app.
cache