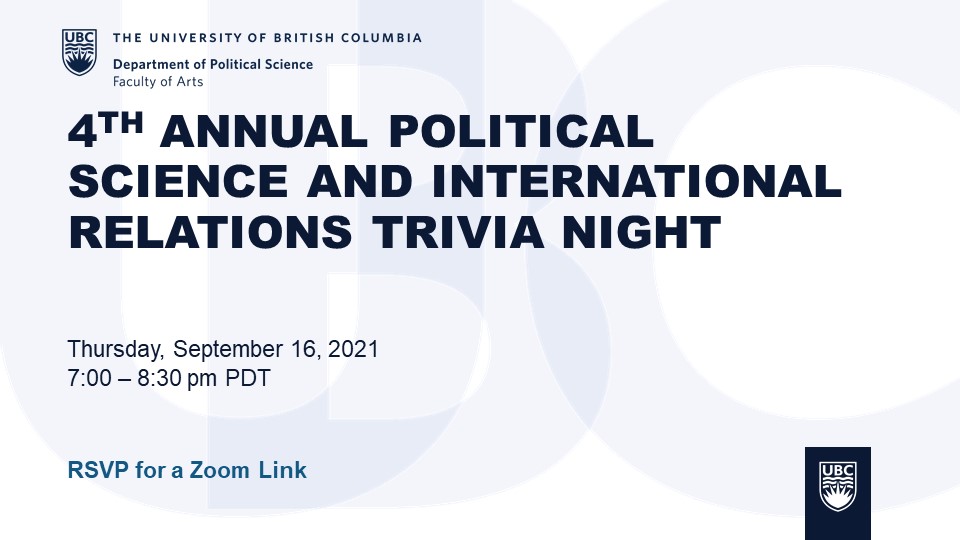 We are thrilled to invite you to the 4th Annual Political Science and International Relations Trivia Night! This friendly competition will be online so please join us for a lively evening of trivia with alumni, students, faculty, and emeriti. Plus, there will be awesome prizes for the winning team/player. Please join us on Thursday, September 16, 2021 at 7:00 pm PDT
The event is free but space is limited – please register now.
Hosted online via Zoom by UBC alumnus Mike Whitaker, BA'08, the professional quizmaster behind Vancouver's premier pub trivia company, IQ 2000.
How to participate:
Play solo, or recruit other alumni, students, faculty or friends/family to play together as a team
Teams can be no larger than 5 players.
Each player must register online (even if you are playing as part of a team)
Important: If you're playing as part of a team, make sure to pre-arrange how you will communicate with each other during the event (i.e. WhatsApp, Google Hangouts, etc.), designate a team member to submit your answers during the event using an online form, and start thinking about a team name!