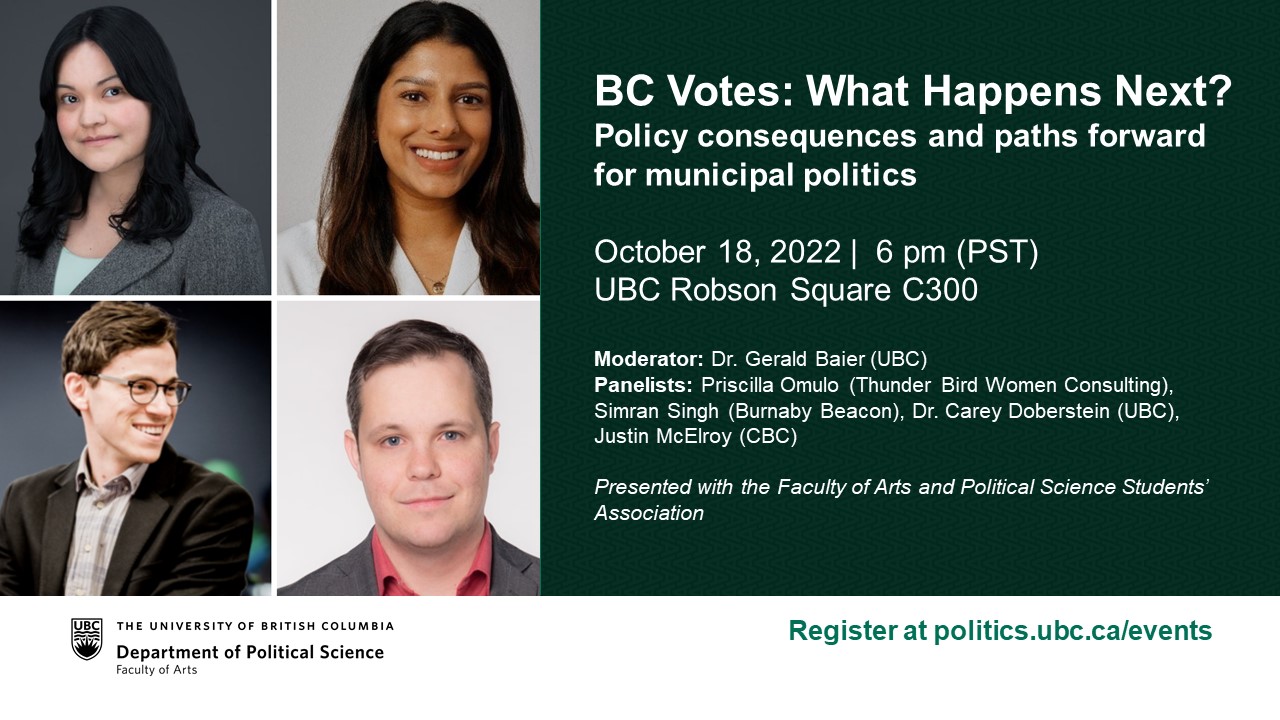 British Columbians will go to the polls on October 15 to elect Mayors, city councils, and school board trustees in over 160 municipalities across the province. There are over 3000 candidates and more offices to fill than in any other voting opportunity available to BC voters. More than just the future of municipal governance is up for grabs. Reconciliation with Indigenous communities, solutions for the housing and homelessness crisis, the opioid epidemic, and important transportation and economic challenges all begin at the municipal level.
Join a panel of UBC Political Science faculty and alumni as we break down the results of the province's municipal elections and their consequences for future policy and the future of local government. Please RSVP below to attend.
This event is presented in partnership with the UBC Faculty of Arts, UBC Connects Robson Square, and the Political Science Students' Association.
Panel agenda
5:30 pm – Registration opens
6 pm – Program begins
7 pm – Q&A with panel
7:30 pm – Program ends
Panelists:
Event moderator: Dr. Gerald Baier
Priscilla Omulo (Thunder Bird Woman Consulting)  is a Tsartlip First Nations woman. ZINC̸O SȽÁNI is Thunderbird Woman in SENĆOŦEN of the W̱SÁNEĆ people. She is humbled and honoured to have worked with Douglas College (Aboriginal Student Services, college-wide and departmental ProD), UBC School of Medicine, Burnaby Family Living, PLAN, Xyolhemeylh Child & Family Services, Canroots, and more. She was a candidate for Port Coquitlam Council in 2018 and is an alumnus of UBC's Institute for Future Legislators. She is passionate about sharing her culture, traditional ways, and her experiences as an Indigenous woman in hopes to support Truth & Reconciliation and Indigenous empowerment.
Simran is a Punjabi-Canadian journalist with over six years of experience reporting in Metro Vancouver. She received her undergrad degree in political science from UBC in 2015 and then went on to graduate with a Master of Journalism degree from the UBC School of Journalism. She previously worked as the city editor at Daily Hive Vancouver and currently works as the managing editor of the Burnaby Beacon.
Carey Doberstein researches and teaches Canadian urban governance and public policy at UBC. His research has focused on governance and public policy questions related to homelessness, affordable housing, and drug policy, as well as participatory planning simulations. He regularly teaches an Urban Governance and Public Policy in Canada seminar course that applies urban politics theory to contemporary issues facing Vancouver.
Justin is the Municipal Affairs Reporter for CBC Vancouver, covering local political stories throughout British Columbia.