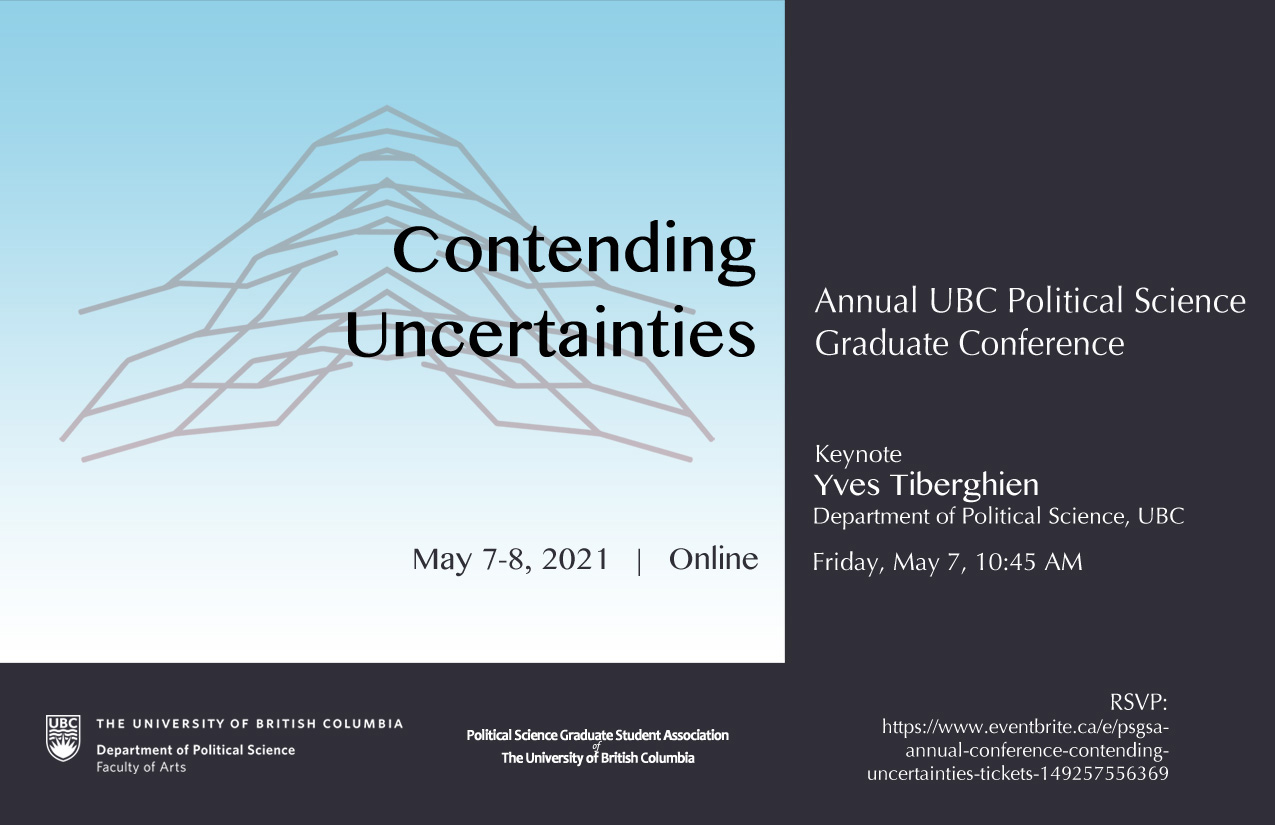 Join us on May 7th and 8th, 2021, for a lively set of panel and roundtable sessions hosted by the Department of Political Science at the University of British Columbia and organized by the Political Science Graduate Student Association of UBC.
This year's theme, Contending Uncertainties, will reflect on recent and ongoing events in a lively set of panel sessions, as well as feature a professional development roundtable on non-academic career opportunities. We are excited to announce that this year's keynote speaker is Professor Yves Tiberghian of the Department of Political Science, who will share insights from his forthcoming book entitled Geopolitics in East Asia: Response to COVID-19.
Full program details and Zoom access information will be emailed out to all registered participants prior to the conference.
An urgent sense of upheaval and uncertainty has been a pervasive feature of the most recent past year. While the COVID-19 pandemic marked an abrupt alteration in daily lives across the globe, the political turmoil of the US presidential election has challenged the nation's very tradition of democracy. Economic uncertainty has also prevailed: at a global level, the longstanding US-China trade war and other trade frictions across developed and developing countries have elicited fundamental doubts in the multilateral trading system; at the same time, the pandemic has placed millions of people on precarity's doorstep. All the while, mass protest movements, galvanized by anger at repressive governments, the desire for civil justice, and in some cases, misinformation, have agitated for transformative change.
At the same time, could these, and other, currently developing events be better characterized instead as transient abnormalities? Even more critically, are current claims to being in an unprecedented era of disruption and transformation perhaps obscuring more than they reveal? Amid recent tumult, threads of continuity also link present to past: violence against Black, Indigenous, and trans people, unabated environmental degradation and greenhouse gas emissions, and disparity in wealth between rich and poor have remained in place as urgent but enduring problems. Meanwhile, while the inertia of institutions, including those of colonialism, lends them a certain resilience, the same quality underscores the sense of intractability in arriving at, and implementing, meaningful changes and solutions.
Participants at our annual conference, appropriately given the title "Contending Uncertainties" this year, will engage with the above themes, asking questions such as: How are we to make sense of such apparently contradictory qualities and contending uncertainties embodied in the present? Has uncertainty upended the status quo, or is the new normal a state of continual unpredictability, insecurity, and risk? Within Political Science, and the social sciences more generally, are our theories and methodologies adequate towards helping us understand the uncertainties and fluctuations of the present? And what can we extrapolate from our observations that might indicate emergent potentials and future conditions? Where should we look to find promise for a better future for coming generations, and how should we seek justice in the present?