Xiaojun (pronounced "shee·ow ji·win") received his Ph.D. in Political Science from Stanford University and joined the department in 2013. He is currently Associate Professor of Political Science at UBC and non-resident scholar at the 21st Century China Centre at UC San Diego School of Global Policy and Strategy. He has also held visiting positions at Harvard University's Fairbank Center for Chinese Studies (2014-2015), Fudan Development Institute (2016), and University of Hawaii's East-West Center (2018).
His previous and ongoing research on international and comparative political economy can be broadly divided into three research programs that investigate (1) the impact of domestic politics on the process and content of foreign economic and security policies, (2) the impact of global supply chains on trade and investment, and (3) the political economy of trade liberalization in developing and post-communist countries. In all of these research programs, he uses China as the primary case of inquiry and employs a variety of methods, including interviews, archival research, survey experiment, and large-N analysis.
He is the coauthor of How China Sees the World: Insights from China's International Relations Scholars (Palgrave 2019) and Fragmenting Globalization: The Politics of Preferential Trade Liberalization in China and the United States (University of Michigan Press, 2021). His articles have appeared in Journal of Politics, International Studies Quarterly, International Affairs, Canadian Journal of Political Science, Chinese Journal of International Politics, Foreign Policy Analysis, International Relations of the Asia-Pacific, Journal of Contemporary China, among others. His research has received grants and awards from such organizations as the Social Science and Humanities Research Council of Canada, the National Science Foundation of the United States, the American Political Science Association, the International Studies Association, the Association of Chinese Political Studies, and the Chiang Ching-Kuo Foundation.
At UBC, he offers undergraduate and graduate courses in international political economy, Chinese politics and Development, China in the World, and Quantitative Methods. For more information on his published and ongoing research, please visit his personal website.
Recent Research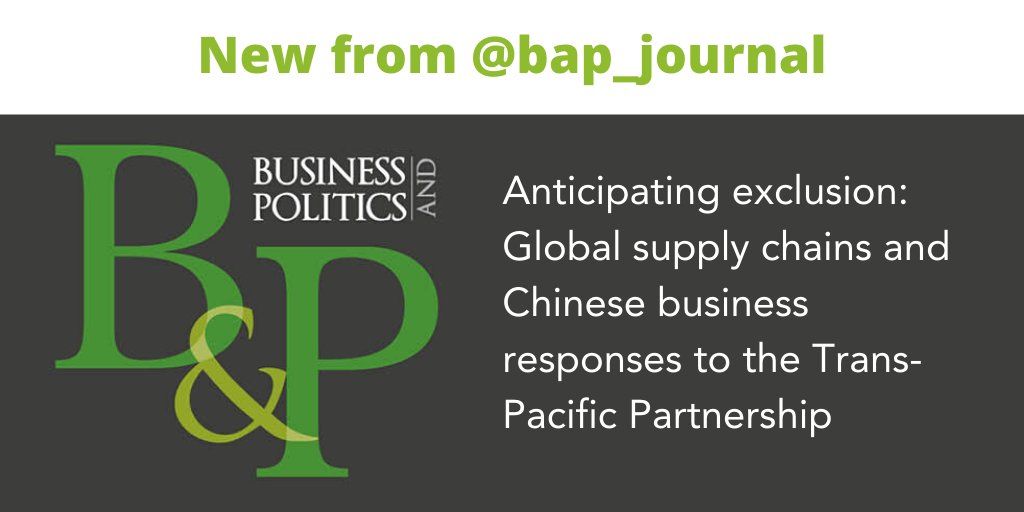 How China Sees the World
Insights From China's International Relations Scholars
Forthcoming from Palgrave Macmillan (December 2019)
https://www.palgrave.com/gp/book/9789811504815
Order through Amazon.
This book intends to make sense of how Chinese leaders perceive China's rise in the world through the eyes of China's international relations (IR) scholars. Drawing on a unique, four-year opinion survey of these scholars carried out at the annual conference of the Chinese Community of Political Science and International Studies (CCPSIS) in Beijing from 2014–2017, the authors examine Chinese IR scholars' perceptions and their changes over time of key issues related to China's power, its relationship with the United States and other major countries, and China's position in the international system. Furthermore, the authors complement the surveys with a textual analysis of the academic publications in China's top five IR journals. By comparing and contrasting the opinion surveys and textual analyses, this book sheds new light on how Chinese IR scholars view the world as well as how they might influence China's foreign policy.
First book that systematically examines Chinese scholars' perceptions of international relations
Includes findings from a four-year survey research study (2014-2017) in Beijing, designed as a semi-longitudinal study in order to gauge the changing attitudes and perceptions of Chinese scholars
Part of a multi-year project, "Understanding China's Rise through the Eyes of Chinese IR Scholars," funded by the MacArthur Foundation
Brexit identities and British public opinion on China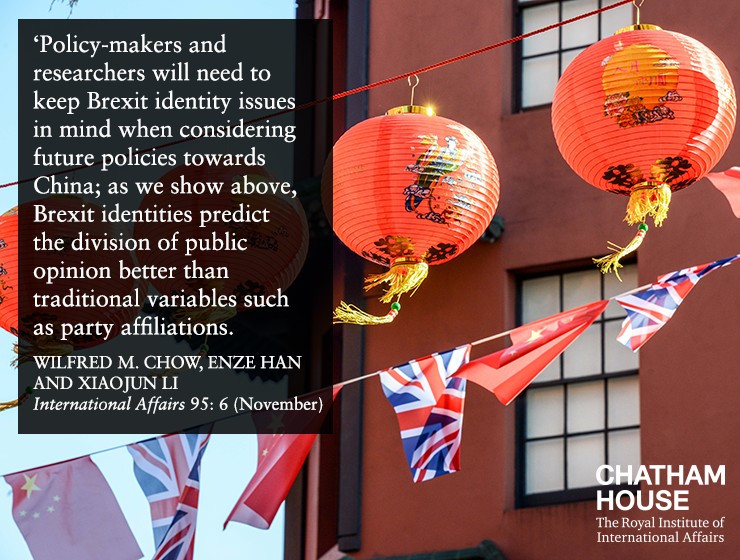 Some of my other recent research profiled by the UBC Department of Political Science
https://politics.ubc.ca/xiaojun-li-misperceptions/#.W-OlShNKhTY
PhD Students:
Nathan Peng, PhD Dissertation Committee Member, 2020-present.
Stephano Burzo, PhD co-supervisor, 2018-present.
Yoel Kornreich, PhD Dissertation Committee Member, 2015-2018.
Linting Zhang, PhD Dissertation Committee Member, 2015-2018.
MA students:
Charles Bain, MA 2017, Thesis Examiner.

Thesis: "The Greening of Self-Interest: Why is China Standing Firm on its Climate Commitments Despite US Regression?"

Miaofeng Zhang, MA 2016, Thesis Examiner.

Thesis: "To Reform or Not to Reform: China's Hukou Reform at the Local Level"

Wan-Ting Lu, MA 2016, Thesis Examiner.

Thesis: "Financial Reforms, Divided Interests, and Tipping Point Policy-Making: Renminbi Internationalization as a New Catalyst for Structural Reforms in China"
Fragmenting Globalization: The Politics of Preferential Trade Liberalization in China and the United States (with Ka Zeng), University of Michigan Press (Michigan Studies in International Political Economy), forthcoming in Spring 2021.
-Pre-order from University of Michigan Press.
How China Sees the World (with Kai He and Huiyun Feng), Palgrave Macmillam, December 2019.
-Order through Amazon.
Peer-Reviewed Articles
(* denotes graduate student co-authors)
Book Chapters 
"Regulating China's Inward FDI: Changes, Challenges, and the Future", in Jacques deLisle and Avery Goldstein (eds.) To Get Rich Is Glorious: Challenges Facing China's Economic Reform and Opening at Forty (2019), Washington D.C.: Brookings Institution Press.
"Environmental Management, Financing and Performance in Chinese Firms: Evidence from a Nationwide Survey", in Bingqiang Ren and Huisheng Shou (eds.) Governing the Chinese Environment in a Changing Society: Dynamics, Challenges, and Prospects (2013), Palgrave Macmillan.
"Learning and Socialization in International Institutions: China's Experience with the WTO Dispute Settlement System", in Mingjiang Li (ed.) China Joins Global Governance: Cooperation and Contentions (2012). Rowman & Littlefield: Lexington Books.
"Reciprocity and Adaptation in U.S-China Foreign Policy Behaviors", in Robert Grafstein and Fan Wan (eds.) A Bridge Too Far?: Commonalities and Differences between China and the U.S. (2009), Rowman & Littlefield: Lexington Books. [download]
Other Publications
"What do Canadians think of China and the United States?" (with Paul Evans and Pascale Massot), Policy Options, December 12, 2019.
"Beijing is counting on its massive Belt and Road Initiative. But are Chinese firms on board?" The Washington Post/Monkey Cage, May 14, 2019.
"China is offering 'no strings attached aid' to Africa. Here's what that means." The Washington Post/Monkey Cage, September 27, 2018.
"Les Québécois Positifs et Pragmatiques Face à la Chine" (with Paul Evans and Pascale Massot), Les Affaires, May 20, 2018.
"Quebec Survey Respondents Positive, Pragmatic about Ties with China" (with Paul Evans and Pascale Massot), The Hill Times, May 18, 2018.
"Xi's China a source of worry and wonder for Canadians" (with Paul Evans), The Globe and Mail, October 26, 2017.
"Pragmatism admist Anxiety: Canadian Opinions on China and Canada-China Relations" (with Paul Evans), Institute of Asian Research, October 17, 2017.
-Media Coverage: National Post, UBC News, Global Times (in Chinese), Xinhua News
"China as a Trading Superpower", in Nicholas Kitchen (ed.) China's Geoeconomic Strategy, LSE IDEAS Special Report 12, London School of Economics, London, UK., 2012.
"Legalizing Nuclear Abandonment: When Do States Enter Nuclear Weapons Free Zones?" (with Matthew Fuhrmann) , Harvard Kennedy School Managing the Atom Project, March 14, 2008.
"China and Multilateral Export Control Regimes: A Case of Socialization Effects in International Institutions", The Monitor (2006), Volume 12, Issue 1: 10-14, Center for International Trade and Security.
Work In Progress (Selected)
"Bureaucratic Politics and Lawmaking under Xi Jinping: The Case of China's New Foreign Investment Law", R&R.
"Trade Wars and Consumer Animosity: Evidence from Canada" (with Adam Liu), R&R.
"More than Meets the Eye: Public Perceptions and Misperceptions of China", under review.
"Territorial Indivisibility and Domestic Preference for Dispute Resolution: Evidence from Japan" (with Songying Fang, Daina Chiba, and Atsushi Tago), working paper.
"Fine Me If You Can: Fixed Asset Intensity and Environmental Regulation Actions in China" (with Qing Deng, Zijie Shao, and Xun Cao), working paper.