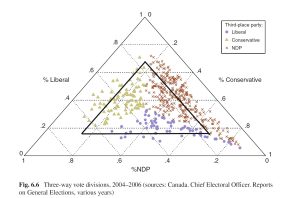 What is the Certificate in Data and Models in Political Science? 
The Data and Models Certificate trains you to apply theoretical models from Political Science to real-world problems of choice and conflict in domestic and global politics. The program teaches you the technical skills required to conduct data-driven research in Political Science. Students who finish this certificate will have a deep understanding of how collective decision-making and political conflict relate to topics such as democratic elections, legislative negotiations, market trade, international disputes, and civil wars. You will also be well-prepared to pursue employment opportunities in policy analysis and survey research, or to go on to graduate training in Political Science or related disciplines.
How do you apply to the Data and Models Certificate? 
There is no formal application process for the Data and Models Certificate Program. Students who achieve a grade of 75% or higher in POLI 110: Investigating Politics: An Introduction to Scientific Political Analysis will receive an email from the Department at the end of the academic year inviting them to enroll in the certificate.[1]
Students enter the certificate by responding to this invitation, and then registering in POLI 220-002 (3): Choice and Conflict: An Introduction to Domestic Politics Around the World.  (The Department will reserve a block of seats in POLI 220-002 for those students.)
Students must complete POLI 220-002 with a grade of 75% (B+) or above to remain in the Certificate program.
What are the requirements to complete the Certificate? 
Students must complete a total of 18 credits as part of the program requirements. 12 credits must be from the following courses:
POLI 220-002 (3): Choice and Conflict: An Introduction to Domestic Politics Around the World
POLI 380 (3): Quantitative Methods in Political Science[2]
POLI 381 (3): Managing Quantitative Data in Political Science
POLI 482 (3): Data and Models Capstone
And 6 credits from any of the following courses:
POLI 310 (3): Parliament and Politics: The Strategy of Politics
POLI 320A (3): Government and Politics of the United States of America: Intro to US Politics
POLI 328 (3): Topics in Comparative Politics
POLI 333 (3): Issues in Comparative Politics
POLI 360 (3): Security Studies
POLI 385 (3): Public Opinion and Elections
ECON 485 (3): Political Economy
Students can request to substitute some of the courses above for courses in other departments. Please consult the Department of Political Science Undergraduate Advisor for the courses applicable to the certificate program in any given year.
[1]The qualifying grade of 75% in POLI 110 may be adjusted at the Department's discretion to ensure the efficient operation of the certificate
[2] Students can substitute POLI 380 for ECON 328 or STAT 201 with the approval of the Political Science Undergraduate Advisor