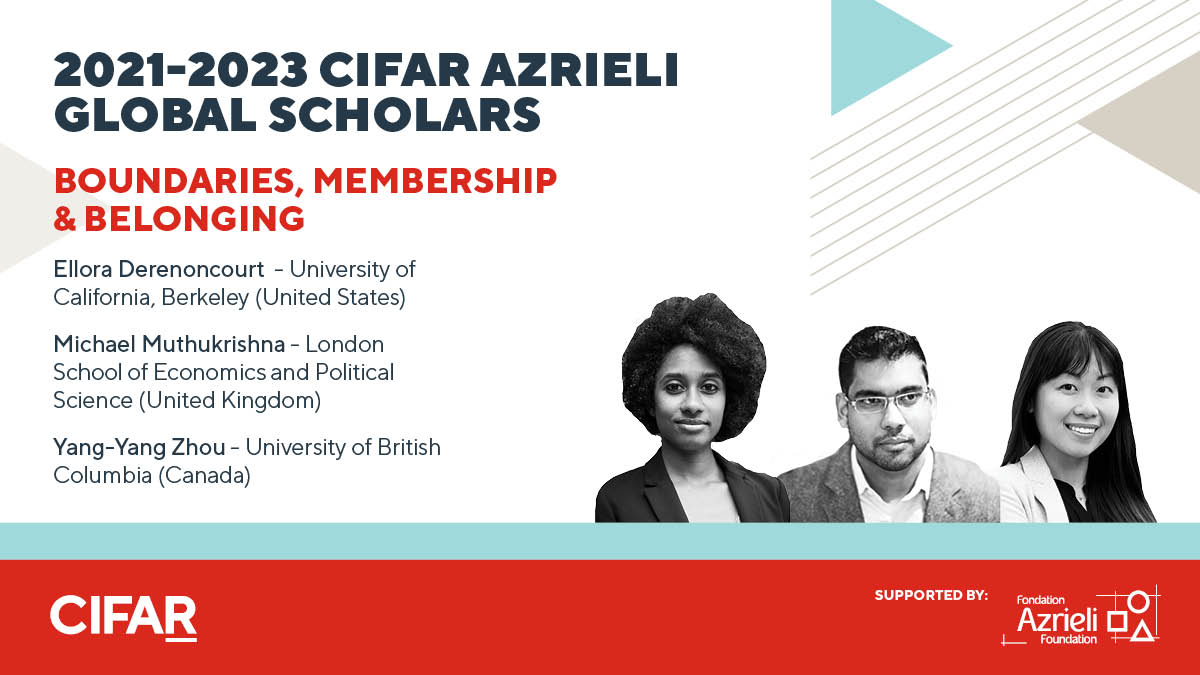 Dr. Yang-Yang Zhou, Assistant Professor of Political Science, has been named a CIFAR Azrieli Global Scholar. She is among 19 exceptional early-career scholars from eight countries to be selected for this fellowship for 2021-2023. Scholars are awarded $100,000 in unrestricted research support, mentorship, a global network, and professional skills development.
"The CIFAR Azrieli Global Scholars program is one of the most selective and prestigious early-career opportunities for young researchers anywhere in the world," said Alan Bernstein, president and CEO of CIFAR. "These young people are selected for their excellence in research as well as their potential to become the leaders of tomorrow. They are mentored by some of the world's top natural or social scientists and are given the unique opportunity to join a close-knit community of CIFAR fellows, challenging each other with new ideas and addressing some of the most exciting and important questions facing science and humanity."
Zhou is joining the "Boundaries, Membership, and Belonging" program led by Professors Irene Bloemraad (UC Berkeley) and Will Kymlicka (Queen's University). This group of sociologists, psychologists, economists, and political scientists explore intergroup dynamics in a globalizing world, how people cooperate and search for belonging but also put up exclusionary boundaries through ethnicity, religion, class, and notably for Zhou, immigration status.
"The motivation for practically all of my research starts with what many have called the current 'global migration crisis," Zhou says. "For me, I think the crisis really lies in how politically contentious migration has become, and the growing public resistance against it. So my goal is to empirically test what is 'conventional wisdom' around migration and provide evidence to refute misperceptions, particularly in understudied Global South regions."
Zhou has a forthcoming article in the American Political Science Review coauthored with Andrew Shaver (UC Merced) to challenge the perception that hosting refugees can lead to conflict and insecurity. Zhou and Shaver use global subnational data of refugee locations spanning the past 30 years to show that hosting refugees does not increase the risk of conflict and violence. In fact, under certain circumstances, hosting refugees decreases violence and improves local development, such as more health clinics and schools. This research was featured in Foreign Affairs.
"But just because being neighbors with refugees and asylum-seekers can actually lead to better development outcomes for locals, doesn't mean there isn't still prejudice and discrimination," Zhou cautions, "Unlike in the Global North where there are often racial and ethnic differences between migrants and native citizens, in the contexts where I study — migrants and host citizens often share ethnic and cultural ties. Because of these ties, we might think that host citizens feel more solidarity and inclusivity toward their co-ethnic migrants. Not necessarily. For my book project, I'm studying how when migrants are stigmatized by elites — by politicians and the media — citizens who share ethnic and cultural ties will seek to distance themselves, often by increasing their national identification. In doing so, they are reifying national boundaries and borders. CIFAR's generous research award will help me complete this project and give me opportunities to start new interdisciplinary collaborations."
She received her Ph.D. in Politics in 2019 from Princeton University. From 2021-2023, Zhou is based at Harvard University as an Academy Scholar.
Based in Canada, CIFAR was created to bring together leading researchers from around the world to address important questions. The global scholars program is funded by the Azrieli Foundation and the Love Family Leadership Development Funds, and by other individuals, corporations, and foundations.