UBC Poli Sci students recently participated in a significant research forum held in Hanoi, Vietnam, fostering collaboration between UBC and VinUniversity students. This unique event provided a platform for students to collectively address pressing global challenges and collaboratively develop original research solutions. Over the course of 10 days, UBC and VinUni students conducted original research focusing on advancing human development while safeguarding cultural identity and the environment in today's complex world. Attendees also had the privilege of attending enriching lectures delivered by esteemed faculty members from both institutions, as well as participating in insightful field trips and site visits throughout the vibrant Hanoi Area.
Professor Yves Tiberghien served as the faculty lead for the UBC Go Global research seminar in Vietnam. In 2022, Yves served as a committee member in the high-level committee that advised Foreign Minister Melanie Joly on the crafting of the Canadian Indo-Pacific Strategy announced in November 2022. Vietnam figures prominently as possibly the top new strategic priority for engagement by Canada. Yet, it appears that until this year, no Canadian university had ever organized an education program in Vietnam. Ambassador Shawn Steil (of Canada to Vietnam) joined UBC in two official receptions, one in Hanoi with our students and one at UBC on July 7, 2023. In both, he indicated how valuable such a university initiative was to Canada's priority engagement with Vietnam.
In cooperation with Go Global, Vin Uni was selected as the partner in Hanoi. Vin Uni is the largest private university in Vietnam with a modern campus built in the last 3 years and very ambitious plans for international engagement. On the UBC side, 16 amazing and diverse students were selected from a very competitive pool over 55 applicants.
Professor Tiberghien notes: "the students, faculty, and staff at Vin Uni were wonderful to work with: filled with enthusiasm for joint research and discussions with our students, they ensured that we had access to amazing sites, people, and experiences. They also met our desires for a meaningful learning and research experience sustained over the ten days.
"The research seminar concluded with truly wonderful presentations by joint teams of UBC and Vin Uni students on topics relevant to both sides: coping with rising seas and climate change, the debate over national identity, post-pandemic inequality in the informal sector, geopolitical dilemmas for middle powers in the age of great power rivalry, and societal and government responses to Covid compared."
"The field visits gave us access to wonderful sites, some of which are very difficult to visit. For example, our students got to visit the largest and most modern Elective Vehicle factory in Asia by Vin Fast company: entirely robotized and using the latest technologies and scientists, it is at the frontier of the green tech revolution in Asia and is off limits to most people.  We also got to visit and traditional village, participating in agricultural practices as well as learning traditional culture, art, and food in rural Vietnam. Of course, the students were also in awe at the majesty of Ha Long Bay, the most famous UNESCO world heritage site in South East Asia."
MA student, Sasha Lee, currently working on her master's thesis focusing on the massive growth of renewable technologies in Vietnam, shared her insight on the work carried out with students from VinUni. Sasha told us "the students of VinhUniversity showcased commitment and professionalism in their work which both amazed and humbled many of us from UBC. Amid their assignments, studies, and exams, the participants took the time to discuss, research, and present their work with us which compared rising sea levels and coastal resilience in Hanoi and Vancouver."
Trinh Nguyen, MA student, also added that "the students worked together in groups, and all the groups produced amazing final presentations with sound research component and sensible solutions for global issues".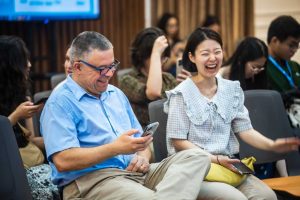 Sasha also described how "many of the students went beyond their obligations to engage with us in a way that might not be so common here in the West. From small acts of kindness which involved showing us around the campus, the VinUni students and staff members made sure we felt safe and wanted in our home away from home, even preparing breakfast bags for us on our last day."
In addition to the academic endeavors, the trip also encompassed a grand reception commemorating the 50th anniversary of diplomatic relations between Canada and Vietnam. The reception welcomed  the Ambassador of Canada to Vietnam, Shawn Steil, UBC students and faculty, Vietnamese university representatives, local business leaders, and dignitaries. This event served as an exceptional opportunity for UBC to forge deeper ties and strengthen its partnership with Vietnam.
The UBC students who participated in the forum were not only exposed to invaluable academic experiences but also had the privilege of immersing themselves in Vietnamese culture and politics firsthand. This cross-cultural exchange broadened their perspectives and enriched their understanding of global issues, making this initiative a significant milestone in UBC's engagement with Vietnam.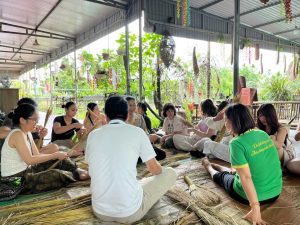 Trinh also noted that the visit to VinUni was a special occasion that allowed UBC students to "observe the opportunities and challenges of a new university and the general educational institutions in developing countries". The experience allowed for more engagement in "politics, prejudice and inequality in the practice of global governance" as well as urging UBC students to "think about what constitutes legitimate educational institutions, inclusion, and trade-offs."
Overall, this research forum in Hanoi showcased the immense value of international collaboration and the power of academic partnerships in addressing complex global challenges. It served as a transformative experience for UBC students, fostering meaningful connections, cultural appreciation, and mutual learning.
Here are some pictures from the trip: