The Department of Political Science wishes a happy retirement to a cherished colleague and renowned mentor of students who has been a cornerstone of UBC Political Science's International Relations faculty for over three decades.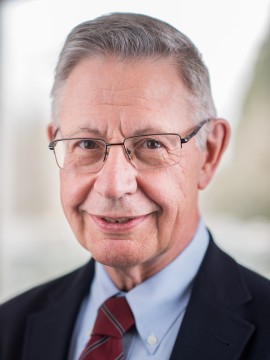 Professor Brian Job came to UBC in 1989, having established his career as a professor at the University of Minnesota beginning in 1974 after his Ph.D. at Indiana University. As a native Albertan who undertook his B.A. at the University of Alberta, he was delighted to return to Canada. Professor Job immediately took on leadership of the Centre (later Institute) of International Relations at UBC upon his arrival, which served as a focal point for faculty, post-doctoral and graduate student research, collaboration, and events. The Centre/Institute was a key node in a network established through the Military and Strategic Studies Programme, and later, Security and Defence Forum Programme of Canada's Department of National Defence, which provided a nexus between scholarship and the policy community on issues of security and defence that Brian was instrumental in facilitating. He played a catalytic role in establishing UBC as a key academic destination only for Canadian defence issues, but numerous other topics and innovations in scholarship and policy, including "Track-Two" diplomacy, Canada-Japan security cooperation, Asia-Pacific security, intra-state conflict, and Human Security. With many of these, he served as a key player in connecting the academic and policy worlds, such as with the North Pacific Cooperative Security Dialogue and serving as co-chair of the Council for Security Cooperation in Asia Pacific.
Generations of students at all levels were schooled in the notion of Human Security under Brian's influence, which became something of a UBC brand worldwide among scholars and also practitioners in government, non-governmental organizations, and the United Nations. This is the notion that traditional notions of security – which places the defence of the nation-state as the center of analysis and practice – overlooks that ultimately security ought to place at its center addressing the basic needs of and threats to human beings. This notion of Human Security has been tied to Professor Job's larger interest in the protection of civilians, which spawned numerous presentations and publications on peacekeeping, peacebuilding, and humanitarian intervention, or what came to later be known as responsibility to protect (R2P), a core pillar of the Human Security agenda. Professor Job was the moving force behind the establishment of the Canadian Consortium on Human Security which engaged a network of researchers and practitioners across the country on these issues, raising over $1.5 million for this innovative initiative. This was but a part of his prodigious grant success throughout his career, which not only supported his own research but that of many collaborators in the various networks and consortia he established and participated in, as well as supporting scores of graduate and undergraduate students as research assistants and co-authors and providing them with valuable professional experiences.
Brian has been a renowned and highly sought-after mentor as a supervisor of students. He supervised or served on the committee of more than seventy Master's students while at UBC, a truly prodigious record of mentorship. Many of those students went on to obtain their PhDs and become highly regarded scholars in their own right, while others went on to professional careers in government and inter-governmental organizations, the private sector and non-governmental organizations. At the PhD level, Dr. Job's level of mentorship was similarly superlative, with over thirty PhD students having benefited from Brian's advice as their supervisor or from his presence on their doctoral committees at UBC. The positions these students occupy at universities and other positions around the world are testimony to the influence Dr. Job had on their professional development and careers. As if that was not enough, he also supervised some fifteen post-doctoral fellows, four of whom have been faculty members at UBC. In the classroom, Professor Job's courses have consistently been at the highest level of student demand; his excellence in teaching, well-known by students, was recognized with the UBC Faculty of Arts Award for Excellence in Teaching in 2008.
Brian has been an exemplary university citizen throughout his career, always giving generously of his time for the Department and throughout the university. Institutes across campus benefited from and thrived under his leadership – he was Interim Director of the Liu Institute for Global Issues, Associate Director of the Institute of Asian Research, and Graduate Director of the Masters of Public Policy and Global Affairs Program among other roles. Beyond UBC among countless other engagements he notably organized and chaired the annual meetings of the Canada-Japan Symposium on Peace and Security Cooperation, for which he received recognition from the Japanese government.
Brian has been the epitome of the well-rounded scholar, who has engaged consistently with deep commitment with students at all levels and brought the university of policy communities together on important issues. He has been a productive researcher and has been a beloved colleague whose contributions will be sorely missed. A world traveler who has accumulated a prodigious list of destinations throughout his career while balancing his family life with his wife Susan and two children, we look forward to hearing what his next stage holds in store, and to continued engagement with Brian as part of our community as an Emeritus faculty.